Alicia Christian Foster, better known as Jodie Foster (born November 19, 1962), is an American actor, film director and producer.

Foster began acting in commercials at 3 years old,and her first significant role came in the 1976 film Taxi Driver as the preteen prostitute, Iris, for which she received a nomination for the Academy Award for Best Supporting Actress. She won an Academy Award for Best Actress in 1989 for playing a rape survivor in The Accused. In 1991, she starred in The Silence of the Lambs as Clarice Starling, a gifted FBI trainee, assisting in a hunt for a serial killer. This performance received international acclaim and her second Academy Award for Best Actress. She received her fourth Academy Award nomination for playing a backwoods hermit in Nell (1994). Other popular films include Maverick (1994), Contact (1997), Panic Room (2002), Flightplan (2005), Inside Man (2006), The Brave One (2007) and Nim's Island (2008).


Early life
Foster was born in Los Angeles, the daughter of Evelyn 'Brandy' Ella (née Almond) and Lucius Fisher Foster III. Her father, an Air Force Lieutenant-Colonel (a veteran of the Battle of Britain and a highly decorated airman) turned real estate broker, came from a wealthy background and left his wife before Jodie was born. Foster's mother supported them by working as a film producer.After appearing as a child in several commercials, Foster made her first credited TV appearance on The Doris Day Show. Her first film role was in the 1970 television movie Menace on the Mountain, which was followed by several Disney productions.


Foster attended a French-language prep school, the Lycée Français de Los Angeles, and graduated in 1980 as the valedictorian. As a teenager, Foster frequently stayed and worked in France, and still speaks the language, dubbing herself in French-language versions of most of her films. She attended Yale University, and was a member of Calhoun College. She graduated magna cum laude, earning a BA in literature in 1985. She was scheduled to graduate in 1984 but the shooting of then-President Ronald Reagan by John Hinckley, Jr., in which Hinckley's fascination with Foster created unwanted adverse publicity for her, caused her to take a year-long leave of absence from Yale. She is fluent in French, and understands German and Italian.


Child star

Foster made nearly 50 film and television appearances before she attended college. She began her career at age three as a Coppertone Girl in a television commercial and debuted as a television actress in a 1968 episode of Mayberry R.F.D.[11] In 1969, she appeared in an episode of Gunsmoke, where she was credited as "Jody Foster". Although not a regular on The Courtship of Eddie's Father, she appeared from time to time as Eddie's friend Joey Kelly.[12] She made her film debut in the 1970 TV movie Menace on the Mountain and was featured as Tallulah in Bugsy Malone in 1976. As a child, Foster made a number of Disney movies, including Napoleon and Samantha (1972) and One Little Indian (1973), and continued to star in Disney films into her early teens. She also co-starred with Christopher Connelly in the 1974 TV series version of Paper Moon and alongside Martin Sheen in the 1976 cult film The Little Girl Who Lives Down the Lane. As a teenager, Foster made several appearances on the French pop music circuit as a singer. Commenting on her years as a child actress, which she describes as an "actor's career", Foster has said that "it was very clear to me at a young age that I had to fight for my life and that if I didn't, my life would get gobbled up and taken away from me."[13] She hosted Saturday Night Live at age 14, making her the youngest person to host at that time until Drew Barrymore hosted at the age of seven.[citation needed] She also said,

"I think all of us when we look back on our childhood, we always think of it as somebody else. It's just a completely different place. But I was lucky to be around in the '70s and to really be making movies in the '70s with some great filmmakers – the most exciting time, for me, in American Cinema. I learned a lot from some very interesting artists — and I learned a lot about the business at a young age, because, for whatever reason, I was paying attention; so it was kind of invaluable in my career."


Foster was originally considered for the role of Princess Leia in Star Wars Episode IV: A New Hope, but was unable to pull out of her contract with Disney.[citation needed] Not Starring. Retrieved March 31, 2007. She made her debut (and only official) musical recordings in France in 1977: two 7" singles, "Je T'attends Depuis la Nuit des Temps" b/w "La Vie C'est Chouette"[15] and "When I Looked at Your Face" backed with "La Vie C'est Chouette." The A-side of the former is sung in French, the A-side of the latter in English. The B-side of both is mostly spoken word and is performed in both French and English. These three recordings were included on the soundtrack to Foster's 1977 French film Moi, fleur bleue.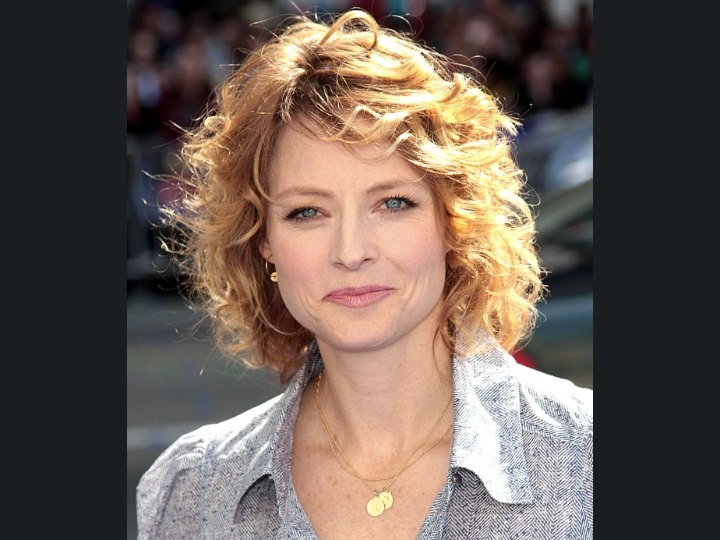 Foster starred in three films in 1976 — Taxi Driver, Bugsy Malone, and Freaky Friday. She was nominated for the Academy Award For Best Supporting Actress for her performance in Taxi Driver. She won two British Academy Film Awards in 1977 — the BAFTA Award for Best Newcomer and the BAFTA Award for Best Actress in a Supporting Role for her performances in Bugsy Malone opposite Scott Baio and Taxi Driver opposite Robert De Niro. She received a nomination for Golden Globe Award for Best Actress for her performance in Freaky Friday. As a teenager, she also starred in the Disney adventure Candleshoe (1977) and the coming-of-age drama Foxes (1980).